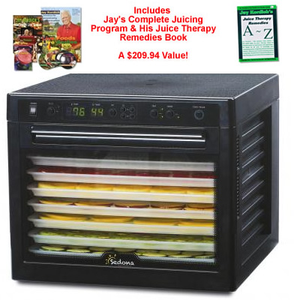 Tribest Sedona Rawfood Dehydrator - WITH FREE LIVING HEALTH PROGRAM!
Regular price $579.00 $479.95 Sale
Description 
This Christmas 2022 we will not be giving away the Living Health Program, because we have sold out, please forgive!  We will however send out our Live Foods/Live Bodies book that is hardcover, full color beautiful table top quality book worth $49.95 for free.
Sedona® is the elegantly easy way to dehydrate raw whole living foods, preserving the natural nutritional value and taste without using artificial preservatives. Compared to other leading dehydrators, Sedona® offers unsurpassed performance utilizing the latest digital dehydrating technologies with accurate temperature controls.
The Sedona Rawfood Dehydrator® Carries a Full 5 YEAR Warranty
Unique Raw & Health Food Friendly Features
The Sedona nine tray digital food dehydrator from Tribest is designed with health-conscious individuals in mind. It introduces ground-breaking features to ensure the highest quality of retained nutrients and taste in dehydrated fruits and vegetables :
Overheat Protection Feature keeps raw food from being overheated!
Clear, Natural-colored BPA-free trays & mesh screens
No black coloring chemicals used for food-contacting parts
PTFE-free, BPA-free drying sheets available (Poly-propylene or Silicone)
User Friendly Features
Enjoy a simple, yet intelligently designed interface. The operation of the Sedona is extremely easy with clearly marked controls and an easy to read digital display. The placement of the controls, hinges, glass panel, and the LED display are carefully designed to maximize efficiency and ease of use. The Sedona is extremely quiet during operation and manages the heated air in the drying compartment evenly and accurately.
Built-in Timer Up To 99 Hours
Digital Display and Setting for Easy Control
LED Light Display for Dark Environment
Front Control Panel for use and placement under kitchen cupboards
On/Off switch : No need to pull the plug to turn off unit every time
Clear Glass Door to see results without opening unit
Automatic pause & resume function when the door opens & closes
Convenient front-mounted pull-down glass door
Elegant and aesthetic design
Temperature mode selection for °F or °C
More tray room with 1" clearance
Debris Catching Tray for easy cleaning
Convenient, detachable power cord
Eco-Friendly Features
The Sedona Dehydrator operates much quieter than its competitors with higher efficiency. Dual Fan Technology allows you to operate each of the Sedona's two 300 watt computer-controlled fans and heating elements in the two drying compartments together or independently of each other. Discrete control over the two drying compartment allows the Sedona to operate at at 600 watt or 300 watt power, depending on your needs.
A separate heat sensor monitors the current temperature of each independent fan-heater set within its own compartment which improves the efficiency and overall quality of the dehydration process.
Energy Efficiency with Dual Fan Technology
Closed Tray for Dividing Drying Chamber in Half
Quiet DC Motors for Lower Noise Pollution
Night-mode function for Even Quieter Performance
Includes
9 BPA-Free Plastic Open Trays
9 BPA-Free Plastic Mesh Screens
1 BPA-Free Plastic Closed Tray/Divider
Tech Specs
Dimensions: 19.7" W x 14.6" H x 17" D
Unit Weight: 24 lbs
Tray Size: 15.25" W x 1" H x 13" D
Number of Trays: 9
Warranty: 5 years
Power: 600W