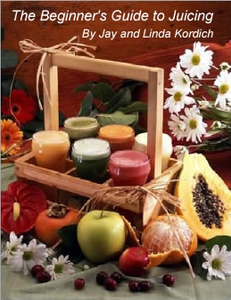 The Beginner's Guide to Juicing (Ebook) Our Best Seller!
Regular price $9.95 $7.95 Sale
Description 
Linda begins with teaching the nutritional value of whole, fresh fruits and vegetables. You are then taken through the process of selecting those foods for your individual nutritional needs, taught the best types of stores to shop at and….. how to save money in the process. Eating and juicing well is not just for the rich!
In this downloadable e-book, Linda shares hers and Jay's personal experiences in their journey to becoming two of the most respected experts and teachers in the world of juicing and living a natural life style.
You will learn Jay and Linda's top 10 way's to make juicing a permanent part of your life. These include:
How to prepare your kitchen for the changes you are about to make
Tips to retrain your taste buds so you begin to crave fresh juice and lose your desire for sugar and other nutritionally void foods
How you can be juicing a few quarts of vegetable juices daily, along with eating a rich Vegan diet as well on as little as $75.00 a week
Web resources for finding discount whole foods stores in your own neighborhood
How to select a juicer that provides all the features you need at a price you can afford
The best way to start off simple with the juice recipes that soon will be habits
A long list of Jay and Linda's favorite juice recipes (of course!)
This is Linda's offering to you and all juicing enthusiasts...In a compassionate way Linda shows you how she and Jay have followed this path for several years now.