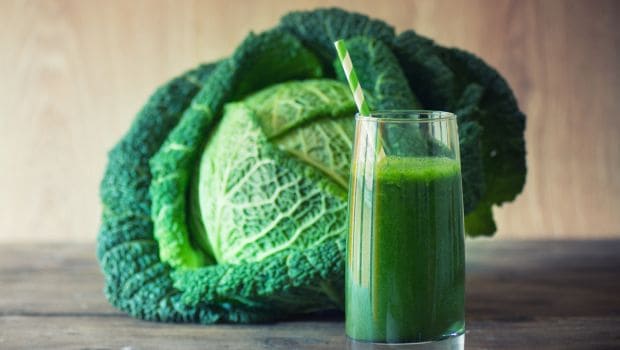 Years ago, Jay told me that the JOURNAL LANCET (from England) shared a study that showed a high percentage of people responding to challenges with stomach ulcers via drinking freshly made cabbage juice, either red or green.  This was back in 1992.  
We were thrilled to see this, considering Jay had been touting the benefits of cabbage juice curing several kinds of ulcers in the stomach for decades.  Not just my late husband, Jay Kordich, but others such as Dr. Normal Walker, Dr. Max Gerson and others.
If you feel burning in your stomach, inability to digest your foods or have intestinal challenges, even in the bowel, these juices will help you tremendously!
We recommend the following:  (16 ounces twice daily)
Carrot/Cabbage/Celery
12 Carrots
2 cups Cabbage
8 ribs Celery
This tonic will ease the pain quickly and it's recommended you do this tonic everyday for 30 days to see real solid results.
fyi;  https://en.wikipedia.org/wiki/The_Lancet 
Good News yes?
https://www.youtube.com/watch?v=OBuIiviFH2Q
Here's a video of Jay going over this recipe: